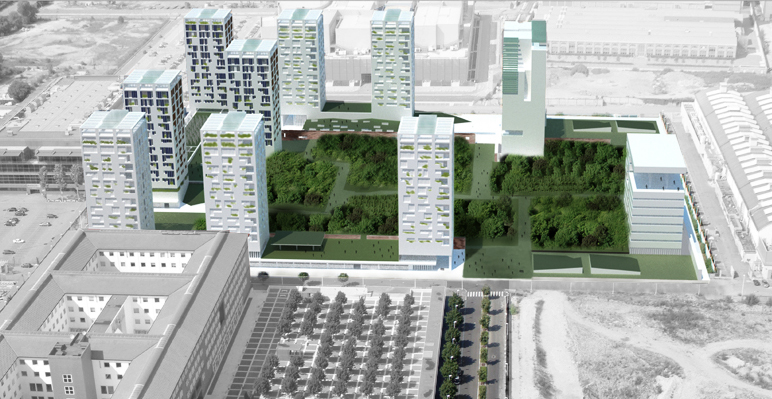 Masterplan for a green urban ensamble
In collaboration with: PROAP Estudos e Projectos de Arquitectura Paisagista, Lda
                                      Transsolar Energietechnik GmbH
                                      Studio Sajni e Zambetti
The project sees the competition area as a chance of creating a large green lung, which would complete the Bicocca district. Its slogan "Alberi di Bicocca" (Bicocca's Trees) refers to a system of buildings inspired by nature, which makes room for nature in the city. The project presents a new housing system enabling people to live both in a lively and dynamic city center and in a green environment. The "Bicocca Trees" are ten towers emerging from a large green platform, which constitutes the new "central park" of the district. It is a reference point, a place for relaxation and recreation that provides a cool shelter in summer for the new residents and those in the surrounding areas. Five-hundred forest trees will be planted on the site and the roofing of the commercial areas will be turned into terraces overlooking the park, private raised gardens and safe areas for playing, reading and relaxing. A network of porticos creates a series of continuous covered walkways that spread out over the entire plot.
Client: Pirelli RE
Location: Milan – Italy
Year: 2008
Site area: 48.000 sqm
Total floor area: 49.500 sqm
Want to know more?
Related Works

Awards
1°Place – "Il Centro di Bicocca"
National competition by invitation