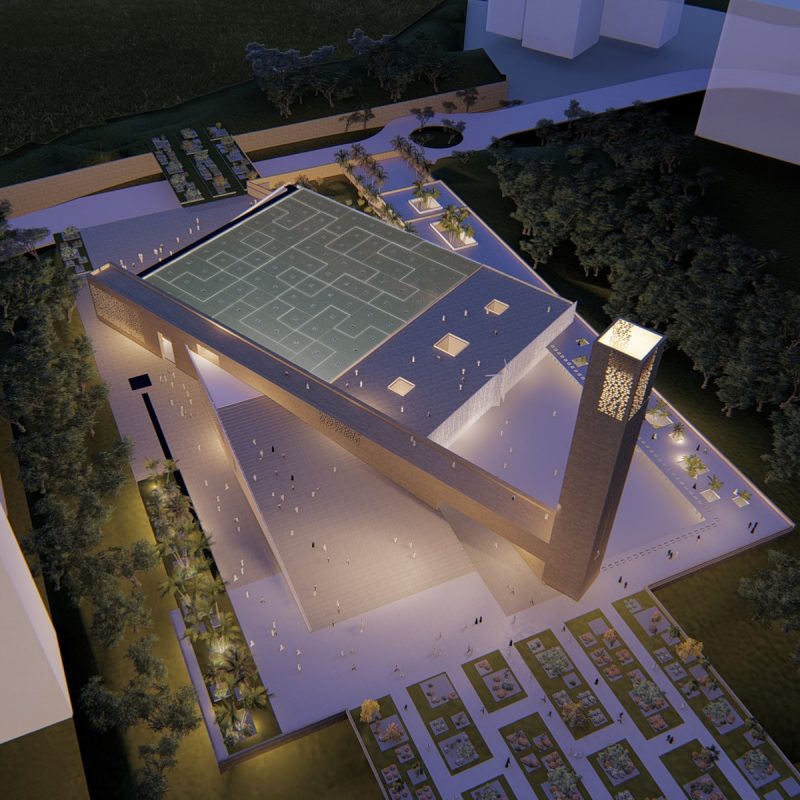 Design of Dubai's Creek Harbour Mosque 
The project transforms the axis, which links the Creek Tower to the green natural area upon the sea, into a green promenade: challenging the high-rise building context, the Iconic Mosque blends into the designed landscape becoming a landmark, while tilting towards La Mecca. By approaching the Mosque, the path splits at three different levels. Visitors can walk upon the wide stairs leading to the building water-rooftop or on the lower level wrapping around it. Worshipers flow into the building after crossing a large square and enter the Prayer Hall, the spiritual core, naturally lit by the staggered ceiling, light wells and pierced walls resulting into a "rain of light" creating a peaceful and contemplative atmosphere.
The landscape and building concept creates comfortable indoor and outdoor spaces by using the characteristics of the harsh local climate as tool. During the day, the boulevard channels towards the city the cooler sea breezes, while using water surfaces to lower the temperature. The cool sea breeze enters the mosque through pierced walls allowing a natural ventilation throughout the building thanks to the Minaret, a traditional element in Middle East architecture, which works as solar chimney driving the airflow.
Client: Emaar Development of Dubai
Location: Dubai – E.A.U
Year: 2018