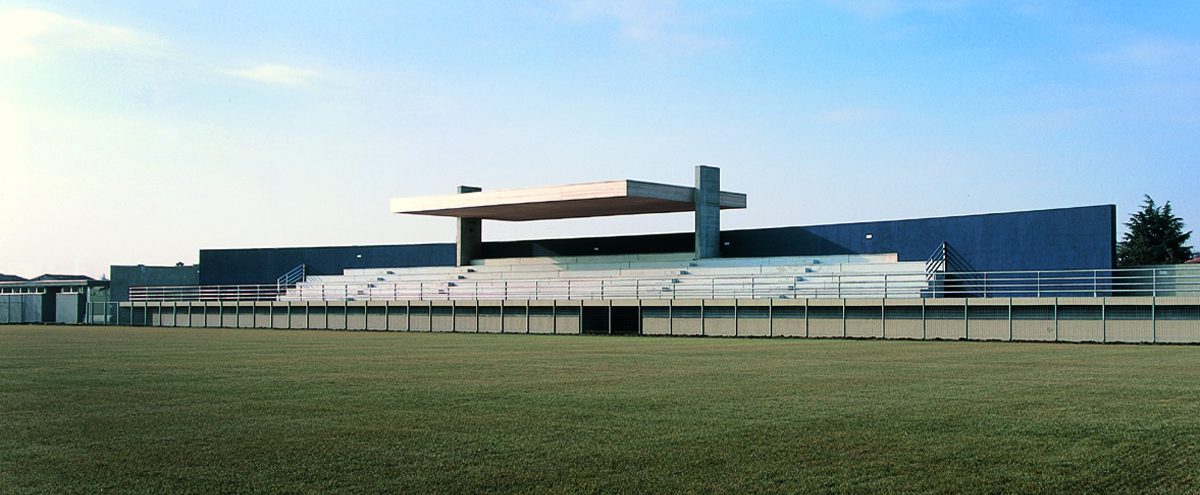 Design of the Municipal Stadium  part of the Botticino Social, Sport and Cultural Centre
The municipal stadium is part of the Botticino social, sports and cultural center, which like the other center structures, is located along the edge of the new city Park. Its integration with the surrounding context was achieved through the use of materials, the same as the Theater's ones (stone, plaster and wood), and landscaping elements which reduce the impact of the fence around the playing field and create visual continuity between the enclosed playing field and the green areas open to the public. The stadium structures consist of three blocks arranged linearly along the west side of the playing field, with interior courtyards between them. The athlete's quarters are located on the south end, the 70 m long stands on the center and the spectators' facilities on the northern end. The arched rear wall characterizes the stands, shapes the spectator entry ramps and architecturally defines the entrance area for spectators and athletes.
Client: Comune di Botticino
Location: Botticino – Italy
Year: 2000 (Project), 2006 (Completed)
Site area: 88.000 sqm
Total floor area: 2.000 sqm
Photographers: colonna 57 photo, Battista Lazzari
Want to know more?
Related Works

Dowload PDF